With over 100 million viewers for this year's Super Bowl, NBC charged $5 million for each 30 second spot and reaped $500 million in advertising revenue sales from this one game.
Viewership for the 2018 Winter Olympics was down compared to NBC coverage of the previous winter games. Yet, NBC claims is claiming Victory!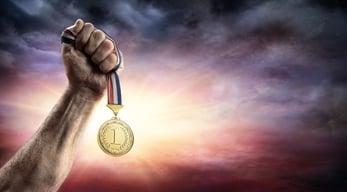 The network sold over $900 million in national advertising for the 2018 winter games. Their business strategy was success -- they met audience guarantees promised to advertisers -- because they figured out how to sell ads based on total viewership across its networks and digital platforms. NBC knew that it's key to victory lied in its digital marketing strategy.
This year, NBC surpassed CBS in total viewers through the first 20 weeks of the season, the first time since 2002. Yet, this is happening in a time when television ad sales are falling -- down 8% in 2017. This is why ad agencies need to figure out the digital business aspect of broadcasting.
There has to be a way to put a number on all those viewers who stream. And it appears that NBC has come closer than anyone to finding this Holy Grail of metrics.
NBC sold advertising based on TAD …"Total Audience Delivery."
A large factor in the decline of television ratings is because viewing is fragmented across different platforms. But events such as live sports are still bonanzas. Live sporting events remain attractive to advertisers because they keep viewers tuned in during commercials rather tuning out as they do when watching on demand. Everyone knows that there are benefits of social media for business. Figuring out how to count the total number of viewers is a new and crucial aspect in advertising strategies.
Traditional media companies like NBC are now battling Facebook and YouTube, which is owned by Google, for ad dollars. NBC's new metric [TAD] combines the Nielsen rating plus an Adobe measurement of streaming data. It takes the ratings from the broadcast channel NBC and cable channels like NBCSN and combines them with viewership across various streaming platforms to produce one number … the "TAD."
NBC found during their broadcast of the Rio Summer Olympic Games that their online audiences and those tuned in to its NBCSN cable sports network lifted their total ratings by 7 percent, or almost 2 million people.
"Our long-term Olympic rights agreement is the best in all of media. The Olympics have demonstrated the ability to assemble massive and diverse audiences on everything from broadcast television to Snapchat, and are uniquely suited to thrive in today's expanding media landscape," said NBC Broadcasting and Sports Chairman Mark Lazarus said in a statement.
According to NBC, 13.9 million viewers live-streamed the 2018 Winter Olympics -- double the viewers that the previous winter games had. But, even when combining TV viewers with those watching via a live stream, total viewership was still down. Prime-time viewing saw an 8% drop from Sochi.
"In today's media environment, to average approximately 20 million viewers (in prime time over all its platforms) over 18 nights is a tremendous accomplishment," said Lazarus.
NBC shook things up by carrying Olympic programming simultaneously coast to coast, rather than by time zones. That allowed social media to grab viewers without the risk of spoiling outcomes. And it was the first time a network had live prime-time coverage on two outlets at the same time, allowing for simultaneous coverage of different events.
These maneuvers helped attract and keep viewers. But, the real Ad medal needs to be awarded to TAD for coming in first in online and social media marketing. Until a third party system emerges, which all media and advertising companies can agree upon, NBC's TAD is now the measurement to beat.
Readers of this blog also found this topic very helpful: Social Media's Impact on News: Reliability Issues and Revenue Shifts
For more insights on Digital PR agencies and digital transition, please access, "How The Best Digital PR Firms Add To Pipeline Leads."
Author: Mike Emerton, Founder, BridgeView Marketing